Day 9 - Sacramento Valley: Woodland to Chico
The Plan (the whole Plan)
Day #9 : Sat 17 May : Northern California somewhere, via Challenge, so Rupert can send a postcard. Possibly Chico, since Rupert has stuck a sign on it saying "Fine beer made here"?

Only a short drive today, which enabled a relaxing lie-in and a large fried breakfast at Don's Diner, just round the corner from the motel, along with a bit more computing and some beard maintenance on Mark's part. Because of the lack of matching plugs and sockets, we were forced to improvise a little to sort out an electricity supply....
Instead of taking the freeway north, we took back roads following the course of the Sacramento river upstream, meandering gently past fruit plantations and paddy fields.

And we took the car (christened Fred in honour of the motor that had taken us around Australia) past 1000 miles for this journey.
Isn't the Sacramento valley supposed to be a wine-producing region? We saw precious little sign of such activity. But that didn't matter, because of what we had planned in Chico.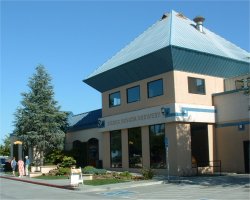 Chico is the home of the Sierra Nevada brewery, positively the centre of the Universe for North American real ale buffs. It produces a range of bottle-conditioned European-style beers from a fascinatingly-designed brewery on the outskirts of the city. Given that booze had obviously not featured sufficiently greatly in the holiday so far, it had to be visited. So we found a place to stay downtown, and made our pilgrimage to this place of cerevisial worship.
We were taken on a guided tour of the brewery by an employee called Connor (apologies to him if he spells his name differently), who wore a psychedelic shirt and looked like an only-slightly tidied-up character from The Fabulous Furry Freak Brothers. Connor showed us round the plant, interspersing his commentary with long paeans of praise to Ken, the founding father and sole owner of the enterprise. Ken, we were told, is a genius. Ken was responsible for all we saw, down to the details of design. It was all Ken's brilliant idea. Connor didn't actually say, "Hail to the Great Helmsman Ken who brings happiness to all", but we got the picture. Ken is clearly a benevolent despot with a personality cult and a FIFO approach to micro-management. But bloody hell, he produces some fantastic beers....
We set about trying a few of the beers out. Here are some of them:

Before ...


... and after.




Oh, dear.
Strange are the ways of the Humble
and prodigeous his feats at the bar.
There's no-one drinks harder
at Sierra Nevada
Except Rupert and Mark and PR
And after that ... er, well, it gets a bit less clear, to be honest. Some things stick in the mind: two large meals in the brewery restaurant, a very friendly waiter, some bizarre 19th Century erotica in the Gent's, the appearance of a High School Prom who took up most of the available area but were too young to sample any of the product, a drinks bill of heart-stopping size, and somehow finding our way back downtown at the end of the evening. Here are some odds and ends of pictures - see if you can make any sense out of it all...


And as your diarist writes, he is still rather suffering from the effects of it all....