Day 8 - Napa Valley - Tahoe City to Woodland

The Plan (the whole Plan)
Day #8 : Fri 16 May : Sacramento?
It turned out that all of us had heard that Sacramento was a dump, apart from David, who doesn't know anyone who's been there. So we decided to diverge from the plan, and drive right past Sacramento, on a conveniently placed bypass, into Napa Valley and Wine Country. The uncharitable might point out that we could have got here a lot more easily from San Francisco, but we don't listen to that kind of talk.
Our first winery, reached right before lunchtime, was a ramshackle affair run by an amiable Dutchman named Andre van der Heyden. The vigneron and his business partner were there, to guide us through their excellent range of late harvest reds, starting at $50 per half bottle.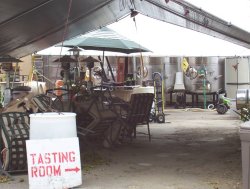 We had shown up right after a tour guide and his party. The guide managed to convince the patrons that his group were affluent enough to "go to the next level", so we were lucky enough to get a barrel sample of a noble Semillon that he is selling now for $75 a 375ml bottle (minimum order three), and will be over $100 a crack when it actually goes into bottles. We turned out our pockets, and scraped up enough for two bottles of Chardonnay and a half of the late harvest Cabernet. Not bad, considering we only chose to visit the winery because it had the least glossy brochure in the Napa city tourist bureau.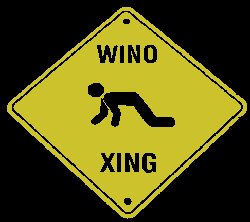 Then followed a long, slow, winding drive around Lake Hennessey, as we looked for a spot to picnic. We found several stunning vantage points, each equipped with toilets, rubbish bins and, frustratingly, very large "No Picnicking" signs. So we travelled on to the Freemark Abbey vineyard, which was corporate, and not particularly friendly, but did have a very nice shaded picnic area.

To be polite, we paid the $5 per person that is standard for tastings around here, and went down their card of 5 wines that were available for tasting. Each was nice enough, but all were over-priced, and we were on the point of leaving when the guy who ran the tasting offered us a taste of the Sangiovese. This turned out to be very nice indeed, and we bought a couple of bottles to add to the load on the over-burdened motor.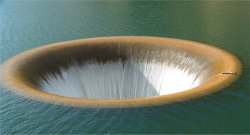 Now we faced the problem of where to spend the night. It turns out that Napa Valley and Sonoma Valley are very expensive places to stay, so we had to choose between heading to the coast, or back inland. Inland was the decision, so we headed over the hills into the very flat valley beyond, passing a hydro-electric dam with a 72' glory hole (fnar, fnar) of which Mark took an arty-farty picture.
Eventually we pulled into a motel in the town of Woodland. Where we walked an unfeasiby long way before sitting down to an inordinate pizza and a couple of pitchers of the house beer.