Day 10 - Chico to Arcata

The Plan (the whole Plan)
Day #10 : Sun 18 May : Very north of CA, or south of OR, somewhere?
A late start this morning, as you might expect from the previous night's efforts. However, no-one was suffering too much to travel, so we set off for the northern coast of California.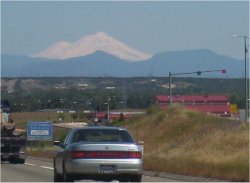 Most of the journey north as far as Redding was dominated by views of Mount Shasta, which is 14,000 feet tall, snow covered, and clearly visible from over a hundred miles away. After Redding, and a brief lunch-buying stop, we headed west into the Cascade range, mostly following the Trinity river, in search of somewhere picturesque to eat a picnic.
Rupert had recalled that Eureka was an interesting Russian fishing village, and so it seemed like a good place to stop for the night. However, as we headed into the city, someone read the guide-book and discovered that it was in fact an undistinguished American port town. A precarious U-turn was executed on the by-pass, and we headed away from Eureka to spend the night in Arcata, a small town dominated by Humbolt State University.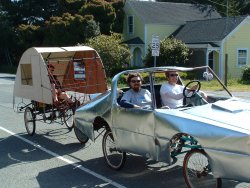 Arcata seems an eccentric place, and mostly it was shut. It does, however, have its own giant redwood forest, which we set off to find. In doing so, we passed the extraordinary sight of three guys pedalling what we can only describe as a heptacycle (see picture). This was clearly the most exciting thing going on in Arcata at the time, and so we stopped and leaped out of the car to take photos of it.
Now, unfortunately, the last few days' excesses had taken their toll on all the group's waistlines, and even Mark was no longer his skinny self. As Patrick drew the car to a halt, Mark opened the door into the road and started to get out - at which point the button holding together the waistband of his shorts finally gave up the struggle and pinged off somewhere into the middle distance. Mark paused in mid-exit, clutching a camera with one hand and his descending strides with the other. Patrick, oblivious to the crisis in Mark's apparel, shouted a warning: "Mark, you're seriously holding up the traffic!" "No," said Mark, "I'm seriously holding up my trousers...."
Strange are the shorts of the Rodmell,
for he is not thin any more:
he's drunk so much ale
that the button will fail
and cause them to fall to the floor.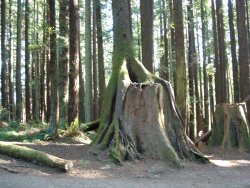 We found the trees eventually, but discovered that as giant redwoods go, they were pretty widgey, really. But the forest had a number of marked walking trails (well, we found the start of trail 1, and the middle of trail 18) which gave us an opportunity for a short walk in the woods, and a long pause while David did something complicated and photographic:
Strange are the ways of the Humble
he's really a bit of a chump:
although there are benches,
he still goes and clenches
his buttocks and sits on a stump!
Fifteen minutes of walking being enough for any Satwother, we repaired to the hotel, which provided a swimming pool and jacuzzi, enabled us to avert an impending laundry crisis, and fed us some rather good seafood, and several bottles of a rather nice Sonoma Valley Sauvignon.