Day 1 - Bloomington, MN
The Plan
(the whole Plan)
Day #1 : Fri 9 May : Minneapolis. Brewery tour of the Ferry Bridge Brewery?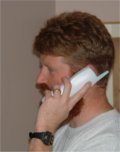 The day began, as most of the previous holiday had passed, with Rupert on the phone to his wife.
Okay, that's a little unfair.


Lisa had very kindly agreed to put up with the prospect of (a) three raucous types camping in her house for two days, and (b) the absence of her husband, departing (c) the day before Mother's Day with said raucous types to the West coast for the best part of three weeks. So it's reasonable enough that she wanted a couple of favours in return. We spent a rainy morning picking up her dry-cleaning and constructing an awning.

And here are our kind hosts:

| | |
| --- | --- |
| | Lisa bakes while we drink beer. So no gender stereotyping there, then... |
| Fiona and Gareth - nice teeth, Gareth! | |
The plan (above) suggested a tour of the Old Ferry Bridge Brewery. Since this establishment is in fact Rupert's own cottage industry, it was possible to do this without leaving the house. So we set about sampling a variety of the brewery's product...
Meanwhile, over at Geek Central, Patrick and Mark combined this tasting with the establishment of style sheets and templates for the website you are looking at now. But as they were working on totally incompatible systems (and to different designs), the process became increasingly chaotic. And any errors in the layout you see are of course down to the incompatibility of systems rather than the incompetence of the web team.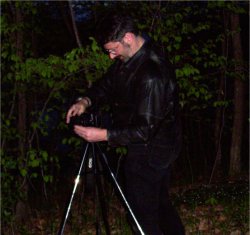 After a large meal consisting of most of a cow, the evening was spent walking across the extensive local parkland, looking at trees, rocks and water. David assembled his camera in the fading light to take moody photos of the sunset. He hasn't had them developed yet, so we don't know whether they're any good. We'll post them later if they are. But in the meantime, here's a picture of David putting up his tripod in the dark.

And so to bed. With the real holiday ready to begin the next day.