Day 2 - Bloomington, Chicago and San Francisco
The Plan
(the whole Plan)
Day #2 : Sat 10 May : Four fat bastards fly to SF, arriving 13:54. Thence
to hotel
Another day of airports. But first a relaxed morning. A large fried breakfast was followed by farewells to Rupert's family. Mark entertained the kids by showing them how the digital camera worked, after which the creaky bones of the assembled party were called into service for a swift game of football (soccer, given where we are). Amazingly, there were no injuries.

Soccer girl Fiona's elegant ball skills contrast with David and Rupert's lumbering attempts....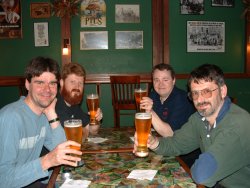 So to another series of airports. First Minneapolis-St Paul, where a very lengthy security check took place, and we watched our luggage being dropped onto the taxiway. Then back to bloody Chicago for another change of planes, then off west. At least a friendly bar was found at MSP, where the necessary preparations for the journey were made.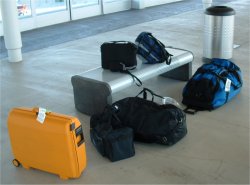 On arrival at San Francisco, we were kept fannying around for an incredible amount of time as luggage failed to arrive on the carousel,we just missed the train to the car hire place, the car hire place then tried to hire us a different car, claimed that Rupert's card had bounced, etc. etc. But at last we were here, and in spite of Mark's navigating efforts we managed to find the hotel.


We were staying at the Astoria, a pleasingly ranshackle place that advertised itself as being "at the gates of Chinatown". And, for once, the description didn't lie. The huge ornamental gate that marks the entrace to Chinatown was indeed a full five seconds' walk from the door of the hotel. So a pleasing amount of Chinese seafood was consumed, maps and guidebooks were consulted, and plans were laid for the next day..