Day 11 - Canberra to Sydney

Canberra has a reputation for being boring. However, it took us only the last couple of hours of day 10 to discover that the description is quite unjustified. Comparisons are made with places like Milton Keynes. But if Milton Keynes had a plaza of that size, that could sell you that variety of food and drink, and be within five minutes' walk of hotel acoomodation that cheap, then it'd have something going for it.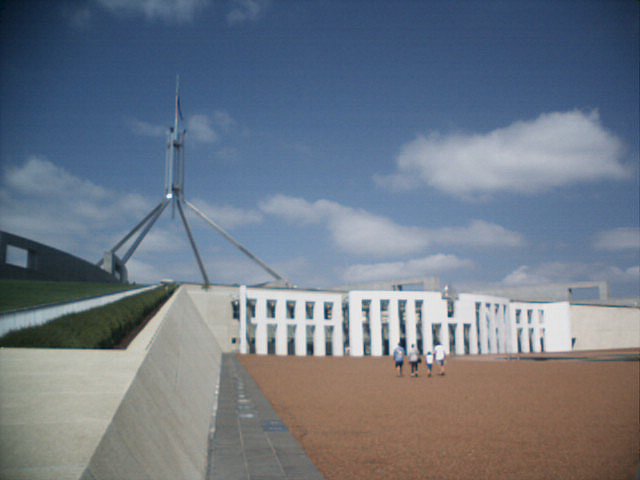 And so we moved on from the city centre to the actual geographic centre of the city, which is the new Parliament building. We were allowed in after David's Leatherman multi-tool was confiscated - presumably the authorities were concerned that, having been denied the chance to take the power station apart the day before, he would use the tool to dismantle the machinery of Governmnet. By consensus of the Satwothers, it is the best building built during the 1980s, and possibly for some considerable period either side. It also has a picture of Paul Keating looking surly.
And on to the National Gallery of Australia, which proved that in 200 years the colonials have failed to surpass 50,000 years of aboriginal art. No surprises there, then. In fact, I suspect that 20,000 years ago, the indiginous people were getting substantially better service at the restaurant in the national gallery than we did, although possibly without benefit of the fog sculpture to keep the temperature down and the humidity up.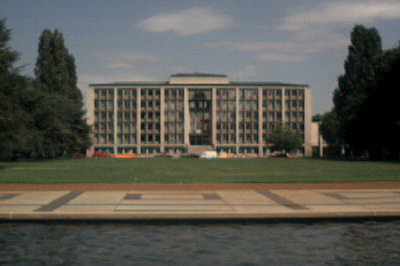 Well, Mark claims that his attachment to Canberra isn't simply that it is the seat of central government. But if anyone is prepared to listen, he will spout at length about the marvellousness of the Parliament building, and took God knows how many pics, anyway, more than we can upload, but some of which are on this page.
After our trip to Canberra, we tried to stick together a picture of the panorama of Lake Burley-Griffin, but the results, here, are a bit indifferent.
En route to Sydney, we tried to find the Bradman museum, but failed. David claims that he pointed out the signpost to us, but no-one else, even though all four of us were actually awake, saw it. We definitely found the appropriate town of Bowral, which has a picture of the Don on its welcome sign, but no further road signs.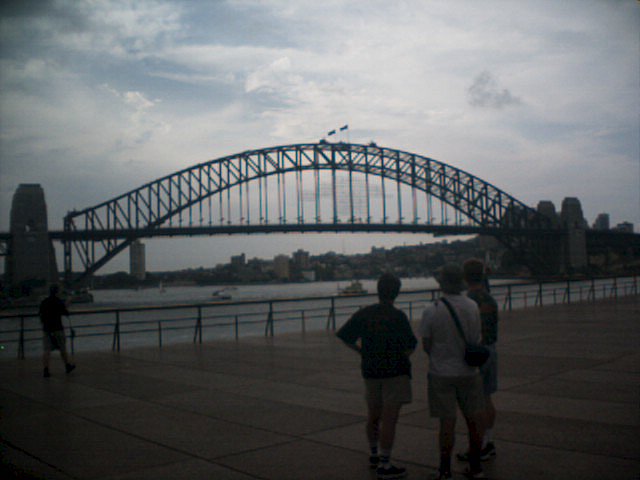 And thus to Sydney, or more accurately, Bankstown, current abode of the Humble. We bought a large breakfast kit then took the train into Sydney proper to enjoy a few pints (sic), and some appalling West Indian cricket, in Australia's oldest hotel, which is comfortingly now a brewpub. We ate dinner in a rather newer pub, superior in no respect other than its willingness to feed us at 11:30pm. Then, despite his strident denials, the Lanky Git shagged the trains home, so we needed to change trains somewhere odd.
At 1am, just when we were debating the relative merits of more Lagavulin versus sleep, Lisa did her wifely duty and called Rupert to ask if we were drunk. As if she didn't already know.