Day 1 — London to Lyon
The Plan (the whole Plan)
Day 1 : Tue 22 May : By train from Waterloo to Lyon via Paris. Collect car, stay in Lyon.
Transport security staff seem to be obsessed with Rupert's underwear.

As noted on Day -4, Auckland airport had required him to unpack his smalls for close inspection. This time, the railway lot got in on the act: Rupert was singled out as we went through the Eurostar search area and we waited patiently on the the other side of the line while his pants were spread out across the table and submitted to minute scrutiny.

But we are getting ahead. The various SATWOTHers had nursed their hangovers, got the train back into town, and joined another bloody great queue to check in at Waterloo. Rupert's knickers having been duly examined, and once we had got Mark off the wrong train that he had inexplicably tried to board, we were on our way.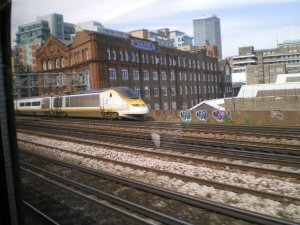 Eurostar was still serving breakfast, even though it was noon by the time it turned up. But as a concession towards the time of day, they did serve some rather nice claret and a perfectly decent Crozes-Hermitage to go with it. Mark and Patrick then spent a long time looking puzzled at they tried to get their laptops to talk to each other so that the website you are reading now could be created.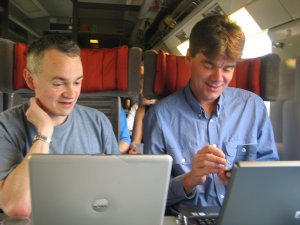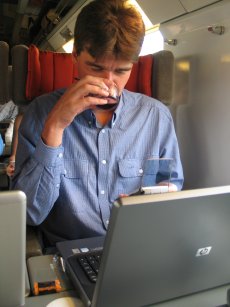 We arrived in Paris bang on time, and had what appeared a short, but perfectly achievable, transfer from Gare du Nord to Gare de Lyon. That is, it would have been perfectly achievable if (a) Gare du Nord had had more than one in three of its ticket machines actually working, and (b) the ticket queues had been occupied by people who had the first idea what kind of ticket they wanted and how to buy it. A couple of Irish backpackers took a good 8 minutes while we seethed quietly.

At last we were second in the queue. But then the bloke in front of us (he's the one in the pink shirt in the photo below) decided (a) he didn't know which airport he wanted to go to (b) he didn't know how many tickets he wanted (c) he tried to engage Mark and Rupert in an argument in German on the subject (d) he attempted to engage the machine in an argument in French on the subject, while (e) we looked nervously at our watches.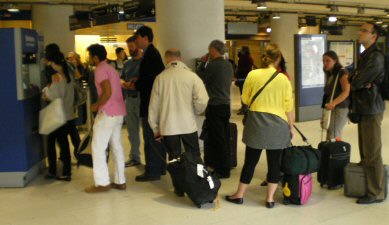 And so once we'd got the ticket, the mercy dash began, and the travelling public of Paris were treated to the spectacle of four rather unathletic blokes carrying about three suitcases each legging it through the corridors and tunnels of Gare de Lyon as we tried to find the train. As the guard blew his whistle rather aggressively, we leaped into what appeared to be the correct train (wrong carriage but, fortunately, right train, otherwise we'd be blogging from Marseille instead...). A kindly bloke in a smart suit changed seats so that we could be in a block of four (or perhaps he just didn't want to spend a train journey next to four breathless and now rather sweaty types).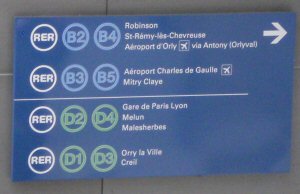 Anyway, we got to Lyon and picked Fred up from the Dutchman. (Our regular readers will understand this to mean that we collected a car from Hertz van Rental.) And at the hotel, David revealed that he had brought with him a generous supply of gin, a bottle of tonic and a lime. So the next thing to do was obvious.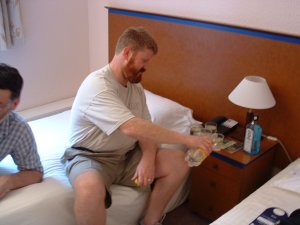 Thus fortified, we set off to see what Lyon has to offer. Which is quite a lot. We walked across one of the many picturesque bridges that span the Rhône, pottered around the main shopping streets for a while, and drank in the history. Lyon has a rich revolutionary history (which pleased Mark) - even the signature drink of the region is called a communard, which is a truly bizarre mixture of Beaujolais and Cassis.

Anyway, we soon found what we were looking for in the form of a bouchon. Bouchons are a Lyonnais speciality: basically they're old fashioned bistros serving traditional food. This one, run by Mme Arlette Hugon, was a real treat, offering a vast range of terrines, sausages made from bits of animals you don't want to think to closely about, various other dishes in wonderfully rich sauces, and several pots of rough-as-fuck but delicious Côtes-du-Rhône. The meal included a thing called Cervelle de Canut (translates as "silk-weavers' brains") which consists of a creamy white cheese with chives and a phenomenal amount of garlic - served as a dessert. All in all, a bloody good start to the gastro-tour.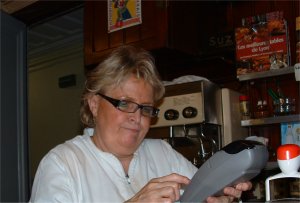 And then - well, to be honest we were a bit knackered, so we just went back to the hotel in a bit of a boring way to get some sleep. Here are a couple of night-time photos to be going along with, anyway. You can click on them to see larger images.