Day 16 - Vancouver

The Plan (the whole Plan)
Day #16 : Sat 24 May : Vancouver? Or spare?
I suppose we should have known what was going to happen. The omens all pointed that way: first, it had started to spot with rain as we queued for the Canadian border; second, we were planning to visit a cricket ground. So the day's downpour ought to have been predictable enough.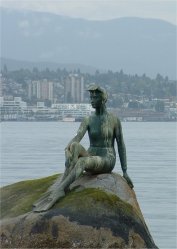 Things started off reasonably well, with a walk around Stanley Park in what was only light drizzle. Stanley Park is perfectly agreeable and is probably rather nice in the sunshine. It took us a while to get there as they seemed to be rebuilding chunks of it and sent us on a rather long detour, but not to worry about that. It has a mix of features including totem poles, a Japanese-Canadian war memorial, and a statue of a girl in a wet-suit (honest).



And by walking round Coal Harbour, it's possible to get to downtown Vancouver via some splendid views. So we walked along the waterside, aiming to find somewhere rather dryer for lunch. At which point Mark spotted a seaplane about to take off from the harbour and leaped up onto a large concrete block to photograph it.

Now, readers of delicate sensibility may want to skip to the next para. We've already mentioned an earlier difficulty Mark had with his clothing due to not being quite as skinny as he was a couple of weeks ago. And so it was rather unfortunate for the general public when Mark's athletic leap to a vantage point was accompanied by a loud ripping sound echoing around the harbour as the arse of his trousers gave way in spectacular fashion and gaped in the direction of innocent bystanders.
Well, a slight detour was taken as we returned to the hotel and Mark changed into his last remaining pair of fully-functioning trews. And thence to Dix, a brewpub on the other side of town, which had food and, more importantly, a roof to stop the rain getting in. However, it was at this point that the drizzle turned into an torrential downpour, which blew through the service entrance and got us wet even in the apparent safety of the bar. We moved closer to the middle of the pub, ordered some more beer, and started to write the afternoon off as we settled down to watch the baseball on the tele.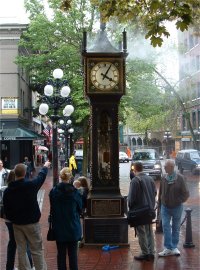 Eventually, the deluge ended, a rainbow appeared and the ark builders announced a redundancy programme. So we got the Skytrain back to the waterfront and wandered down to Gastown, where there is a steam-powered clock. No, really. It operates on a system of falling spherical weights and blows the Westminster chimes on a series of organ pipes. To be honest, you have to take a close look at its (distressingly unphotographable) workings before you can really believe what you're seeing.



The evening was spent on Granville Island, a former industrial area that is being prettified into a bohemian quarter, and thus contains a curious range of art studios in corrugated iron sheds. After our first choice of eatery was found to be full of a wedding reception, we went to the Dockside Brewery, and ... well, it did a good enough smoked salmon chowder, but the rest of the food was fairly ordinary, they cocked the order up, and the Hefe-Weizen tasted oddly of bananas.
"Oddly" "curiously" and synonyms appear to have featured extensively in our account of Vancouver . but you might think that the oddest thing of all is that we haven't included a picture of today's most, er, amusing event. Well, we're not going to, because ... oh, well, since you've read this far....