Day 6 - Yosemite - Hollister to Sonora

The Plan (the whole Plan)
Day #6 : Wed 14 May : Yosemite (150 or so miles)
The day started well. Jerry's diner in Hollister looked to Rupert as if it had a sign saying "fat bastards fed here", and although no such sign existed, they could certainly substantiate the claim.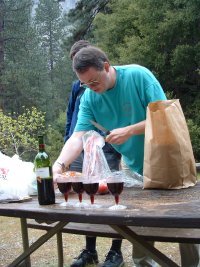 We set out for a long drive over artichoke country, which turned out to be a lot less wiggly than we thought, and we arrived at the last town before Yosemite National Park right around the time we wanted to buy a picnic kit. We drove on into the park, and had our picnic at the base of one of the many waterfalls. Since the picnic consisted of cheese with chillis, garlic salami, and hard boiled eggs, Mark and David were somewhat reluctant to resume their seats in the rear of the car.


We headed up and down the Merced river. Unfortunately it was raining, so we didn't take the otherwise interesting-looking hikes to the bases of the major waterfalls. But by the time we reached the groves of giant sequoia trees, the rain had abated, and we took a walk, about a mile each way, to the git wass trees, where Mark, in an attempt to line up a photo of the four of us, re-arranged the forest, which took its revenge as a tree-trunk fell on his head as he was about to hit the shutter. On the way back we reassured an elderly Swedish lady that she was in no danger of being eaten by bears. In our opinion, which we are sure is shared by the bears, her daughter was much tastier.

| | |
| --- | --- |
| Trees, rocks and water - it must be the Satwothers on holiday | |
| | Lots of wet water. There was lots falling out of the sky, too |
| A tree lands on Mark... | |
| | ...but fortunately it wasn't quite as big as this one |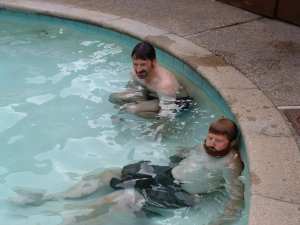 Now it was time to look at the wineries book. Just as we discovered in Australia, we had no chance of making it to the cellar door before they closed. So we settled for checking in early at our hotel in the 49er Gold Rush town of Sonora, and behaving childishly in the pool and jacuzzi. Refreshed, we walked into town to enjoy a pint of Sierra Nevada Pale Ale, a storming Mexican dinner, and another pint, although over the course of dinner the pub had transformed itself into a karaoke bar. We drank up quickly, and returned to the room to plan tomorrows' adventures, which would hopefully include our first wine tastings of the trip.