Day 15 - Sydney, Hunter Valley, Pacific Highway
Day 15 began at an unconscionably early hour as we got up in time to take Rupert to the airport. Actually, it began even earlier as Lisa rang up while dawn was still preparing to crack, presumably to check that she was definitely getting her beloved hubby back.

Fred was due to go back to the shop today, and the remaining three of us were supposed to go to the Australia - West Indies match. But the game had sold out annoyingly quickly, and so so we decided a bit more touring should be done instead. So a quick phone call to the Dutchman* extended Fred's hire period for a couple of days, and we set about deciding what to do with him.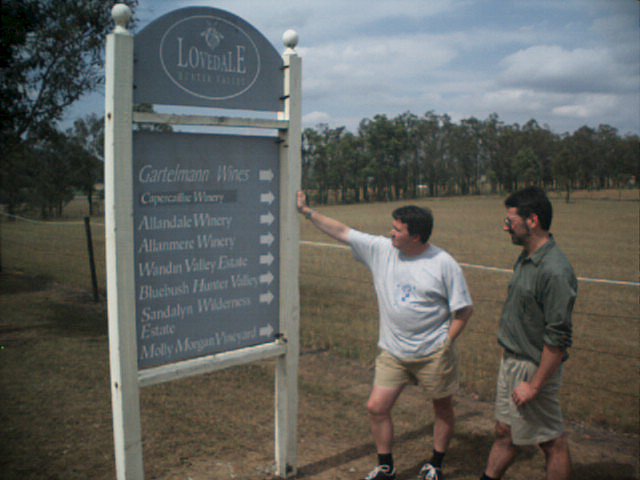 It looked as though it was going to rain, so a trip to the Blue Mountains was ruled out. This left the Hunter Valley, land of wine, cheese and much else, as the obvious choice. And so a happy day was spent as Sauvignons, Semillons, Shirazes, Malbecs, Chardonnays and Chenins Blancs were tracked down, sampled and loaded into the boot along with large quantities of the local cheese.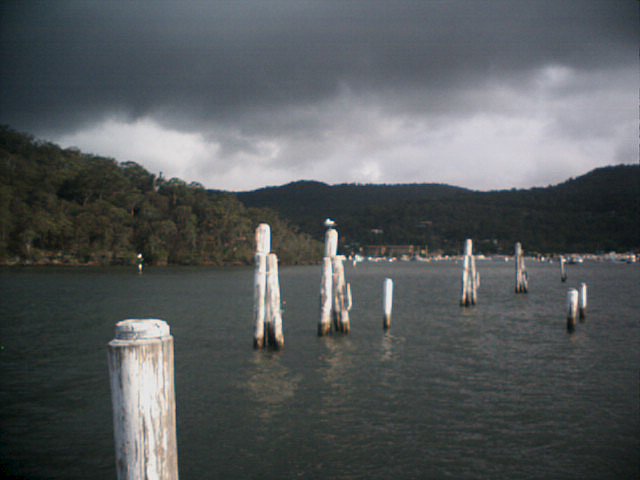 A scenic drive back along the Pacific Highway took us across the Hawkesbury river, where Mark tried to photograph a pelican which refused to look the right way. Then back to Sydney to catch the rest of the cricket on television as some consolation for missing the real thing. But just as the Windies were starting to make a match of it, the heavens opened. As they did on David's flat, while we were on the balcony. Made a change, at any rate.

---

* Hertz van Rental. Do keep up. Back to the text.