Day 6 — Genoa
The Plan (the whole Plan)
Day 6 : Sun 27 May : To Genoa, both as a place to see and a step on the tour
The first thing you notice about Genoa is that you approach it from above.
The city's setting is genuinely spectacular: the old town and port nestle in steep hills while the rest of the city clings to the sides of the same hills. The motorway is built in tunnels halfway up the hills. And it's a bit unnerving as you corkscrew down the sliproad, wondering if you have somehow found your way onto a fairground ride or a game of Gran Turismo. Fred's turning circle - slightly larger than that of a medium-sized oil tanker - was fully tested by the narrow winding streets.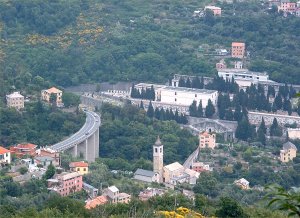 Anyway, it was a nice day, TomTom found the hotel straight away, intoning "You have reached your destination" as we passed it, and a few sets of turns later, we found the way in. We took our bags up a series of stairs and a comedy lift, then went exploring. Once we had worked out where we were supposed to be.
As in so many other places in Italy, we wandered around marvelling at the architecture. Genoa is particularly baffling as many plain walls have been painted with trompe l'oeil murals showing non-existent stonework, shutters and windows. But David found a genuinely three-dimensional building in the form of the Chiesa di San Lorenzo, and decided to take an arty-farty picture of it.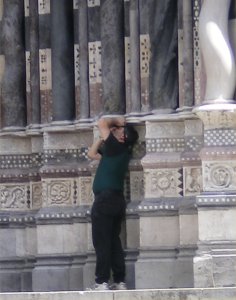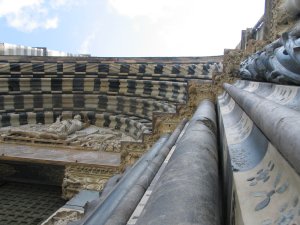 The old port of Genoa has been extensively redeveloped to contain shops, reataurants, sports centres, and a curious device that lifts you 40 metres in the air in a capsule. Spurning this opportunity, we wandered around in the sun for a while and found a pizza to eat.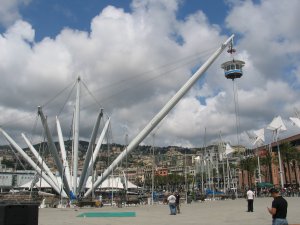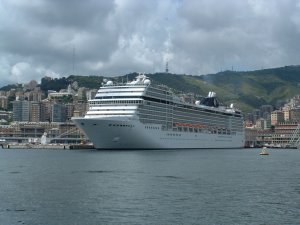 Then, in the traditional manner of these tours, we decided to add to the number of modes of transport we had used. Genoa has a number of funicular railways (sensible enough given how steep the hills are) and so, being the anoraks we are, we found them irrestible. We picked one that runs from Largo Zeccha to Righi. Mark sang a tuneless chorus of Funiculì, funiculà! while the rest of us looked at the mechanical engineering.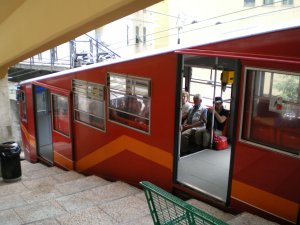 The stop at Righi is close to the old city wall, and so we went for a hike along it, imagining medieval battles raging around the various forts that we could see. And we took in the dizzying views of the city from on high.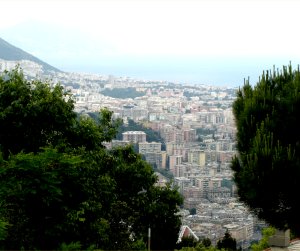 So an excellent last day in Italy, rounded off by a large and delicious meal accompanied by two bottles of Barbera d'Alba delivered from a shelf high above our table by a particularly cute waitress (yes, we know how old we are; yes, we know we're sad letches; no, we don't have a picture).