All the guidebooks to Florence are agreed on a few key things you should know before you visit the city. You cannot park in Florence, and you must call the museums beforehand in order to avoid spending most of your day queueing. Most of all, dress respectably.

We got to park just off the map of central Florence, almost in sight of the Ponte Vecchio, and took a medium length walk into the city.

We wandered around, ogling the architecture, and taking a few pictures. Find the picture of Rupert below, email us at the usual address, and win a small and insignificant prize.
| | |
| --- | --- |
| The only slightly phallic Campanile | |
| | How many streets must the Satwothers walk down? |
| Architecture! | |
| | Florentine roofscape |
| Neptune baring his buttocks at no-one in particular. | |
| | At least these ones aren't running us over |
Oh, and the Uffizi was a bit busy: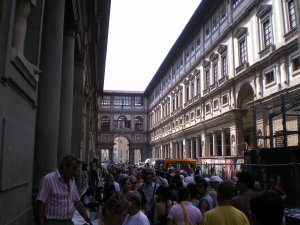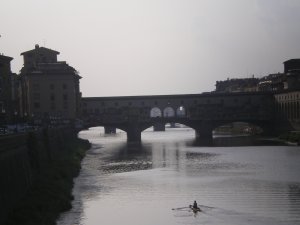 Exhausted by all this exertion in 33°C heat, we decided to sit down somewhere cool for lunch to plan the rest of the day. Over an adequate pizza and a litre of white wine, we perused the guidebook to find that most of the places that we wanted to see either (a) had an embargo on bare legs, or (b) closed at lunchtime. Nonetheless, we were able to plan an itinerary that kept us busy the rest of the afternoon.
First off was the Instituto e Museo di Storia della Scienza, where we were forced to argue at length about the purpose of each device, since the labels were in Italian, which, where intelligible, was not helpful. The museum also had an exhibit of sundials in the basement. This might not seem a natural place to have an exhibit that relies on sunlight, but it was a lot cooler down there than anywhere else we'd been.
Then on to the small but amusing I Nuovi Musei di Leonardo da Vinci, which has wooden implementations of several of Leonardo's sketches, many of which you can play with. Alas, that did not include the armoured tank.
After four enormous gelati, we proceeded to the cultural highlight of the day, the Palazzo Vecchio. The palace was constructed by amalgamating several smaller buildings, and a great deal of (largely homoerotic) art has been used to hide quite how square many of the rooms aren't.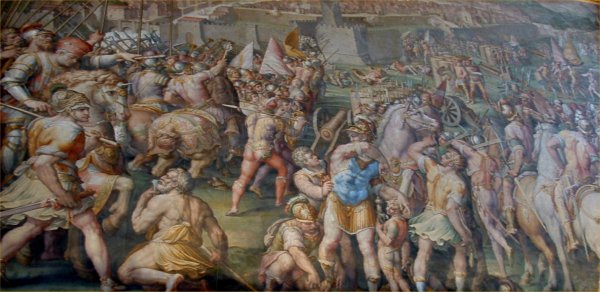 Several of the best rooms are currently being used as offices by the mayor of Florence, an attitude to government office decoration with which Mark thoroughly agrees.
| | |
| --- | --- |
| Way in to the Palazzo | |
| | Business end of the main hall |
| Look up | |
At last we headed back to the car, and drove through a thunderstorm in the mountains, the rain only alleviated by the tunnels. We stopped for dinner in Medona, a town that seemed totally dead as we walked in. There were several bars along our way, all with ample outdoor seating, but none of them serving food. We finally found a ristorante that was serving food. In fact, we found the outdoor seating first, which was 100 metres from the front door. The food was good, so was the wine, and we had great hopes of dessert, pineapple soaked in 25% abv Marachino liqueur, which we'd seen served to four eldery gentlemen at the next table (Satwoth in 20 years' time?). Unfortunately, the pineapples we were served were depressingly teetotal, which annoyed Rupert, who had to drive and hadn't ordered one.
This was a long day. We're not going to make it to Venice tomorrow, are we?