Tasmania, day 3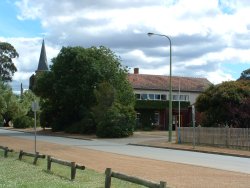 Regular subscribers will note that one important aspect of the SATWOTH experience has not featured yet: the winery visit. Well, fear not, gentle reader: that was on top of the list for Day 3.
Though it did take a bit of doing. Most of the wineries in the area were either shut or too shiny and corporate-looking to be of interest. But we did eventually track down the Coal Valley winery, where we went through their rather nice Pinots Noirs and Chardonnays. Or, rather, Mark did, because David was driving. Eventually Mark will be required to return these favours...
So Mark studied the range of wines he wanted to buy, taking into account the size of his bag and the customs allowances, split the difference an spent a lot of money. David bought some Chardonnay which went over to NZ with him for Christmas and was used to educate his sister's offspring in the ways of such things.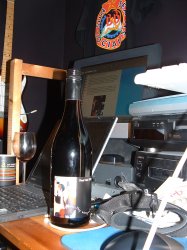 Then on to Richmond. Richmond is one of the oldest settlements in the area. In many ways, it resembles those chocolate-box villages you find in the Cotswolds. It's entirely given over to the tourist trade, so there's not much to do other than take in the general tackiness of it all. Oh, but it also had a model village, which meant that some silliness could be done with photos.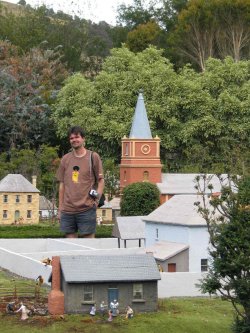 Mark bestrides old Hobart like the lanky git he is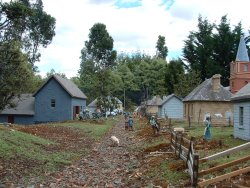 A not-particularly-silly street scene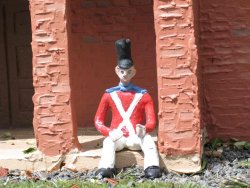 Captain Snort stops off for a sly tab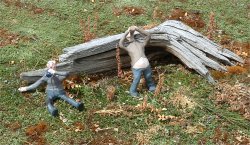 We meet David and Mark's Tasmanian ancestors
And that's about all there was time for, I'm afraid. David took Mark a circuitous route to the airport (deliberately, rather than as a result of his normal suboptimal navigation skills), and the second demi-SATWOTH of 2004 ended. As promised last time, we'll get round to organising a proper one soon, honestly...